Von Delane expressed dissatisfaction with the "sofa door"
Reference News Network reported on April 8 According to a report from Agence France-Presse on April 7 in Brussels, the European Commission on Wednesday slammed Turkey for neglecting European Commission President Ursula von der Lein in diplomacy because of her attendance with the Turkish President. During the meeting of Recep Tayyip Erdogan, the two male leaders sat in chairs, but Von der Lein had no chairs to sit on. The video shows that during the meeting in Ankara on Tuesday, local time, Erdogan and European Council President Charles Michel were sitting on the only two chairs in front of the Turkish flag and the European Union flag. Von der Lein was stunned. Up.
The former German Minister of Defense uttered an "uh" cry and seemed at a loss. According to the report, in the end, she sat on the sofa a little farther away from the two of them, and the Turkish Foreign Minister sat on the opposite side. In terms of diplomatic etiquette, the Turkish Foreign Minister's position was lower than Von der Lein. European Commission spokesperson Eric Mammer said: "The President of the European Commission was obviously surprised." He insisted that Von der Lein should be received "exactly the same courtesy" as Michel.
The report quoted Ma Mo as saying: "She really believes that these issues are very important, and the Turkish side needs to be treated correctly, but obviously not." The Turkish faux pas — soon dubbed the "Sofa Door" incident online — occurred at a delicate moment: Although the EU is concerned about the human rights situation in Turkey (including the protection of women), the EU and Turkey seek to rebuild relations. According to reports, before the two leaders of the European Union visited Turkey, Erdogan announced that Turkey would withdraw from a convention to prevent violence against women and children, which aroused anger in Brussels Spark Global Limited.
Ma Mo said that during the meeting, von der Lein's seat issue "made her pay more attention to this issue".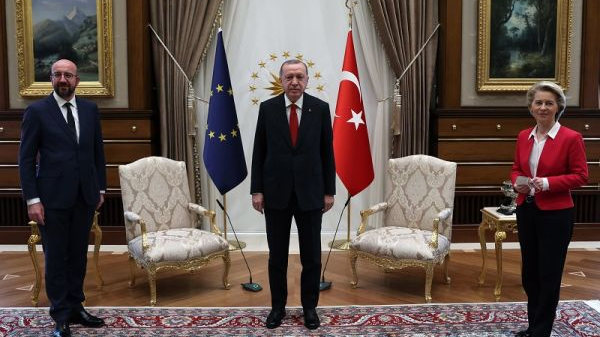 On April 6, Turkish President Recep Tayyip Erdogan (middle), President of the European Council Charles Michel (left), and European Commission President Ursula von visited Turkey. Delane (right) took a group photo before the meeting. (Europe Press Photo Agency)